RELAX
Floating will introduce you in very pleasure state and allow to rest your body and mind, the gravity also will not bother you.
MIND
Every hour spend in our place is improvement of your well-being by endorphins release. It acts antidepressant, enhances concentration and creativity.
BODY
One hour session can replace 4 hours of sleep. By regular visits you will regenerate your body and perfectly prepare for competition.
PAIN
During the session we stimulate the body natural ability to cure and regeneration, it will let you completely forget about pain.
STRESS
In professional floating cabin you will completely get rid of stress. Through stimulus elimination you will be able to totally calm down and improve your self-confidence.
What is floating?
It is therapy which consist of eliminating about 90% of outer stimulus. Thanks to high concentrated EPSOM salt solution we can't feel the earth gravity. The session starts by entering a cabin with music in the background which helps us to get relaxed. By this our muscles losses stress, endorphins starts to eject and cortisol is being reduced. After only 3 hours sessions our body get used to new environment and we can feel effects coming from the therapy: stress effects reduction, muscles relax, concentration and memory improvement, relief of spine and rheumatic pain, blood high pressure reduction, positive, soothing impact on skin, sleep quality improvement, brain hemispheres synchronization, physical and mental pain reduction, slimming support, injuries treatment speed up, better work of immune system. Interesting fact: Milan Lab – laboratory of football club A.C. Milan uses floating cabins to sport preparations, biological renovation and to help players recover from injuries.
Watch our video where you will see step by step the stages of a floating session.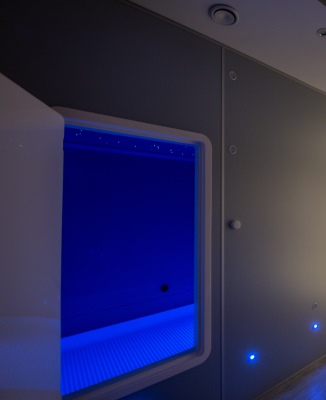 Floating cabin
It's spacious, soundproof room, filled with around 25 cm of salted water, in which is dissolved 370 kg Epsom salt. This solution is constantly heated up to close to body temperature, around 35° C. Person located inside is totally isolated from the outside world. It allow to experience a state of deep relax both physical and mental. Thanks to high concentrated Epsom salt solution, human body floats freely on the water. We don't feel body weight, but experience fascinating levitiation feeling instead. Due to its dimensions (2,4 m length, 1,4 m width and 2,2 m height) cabin provides session members roominess comfort also. Our floating cabin is placed in a special room carefully designed with the smallest details.
Cabin construction
To construct cabin the most effective thermal and acoustic isolating materials had been used. Those materials placed between all surfaces of cabin, create warm and quiet relaxing environment. Water inside the cabin is filtered four times between sessions by a high efficient pump. Every client that comes inside can be sure that the water is clean and absolutely sterile. Heating in cabin provide warmth that is close to body temperature, dosing delicate heat to water if needed. Thanks to that temperature of the water is very stable and even by long using of the cabin there is no loss of warmth. Music inside sounds with crystal-clear sound quality speakers placed above and below floating on water client. Tempting inside of the cabin is illuminated with underwater LED diodes in deep, intensive blue color. Big, tippable door simplify using the cabin by less physical efficient people, and conveniently placed inside handle provides greater comfort and sense of security.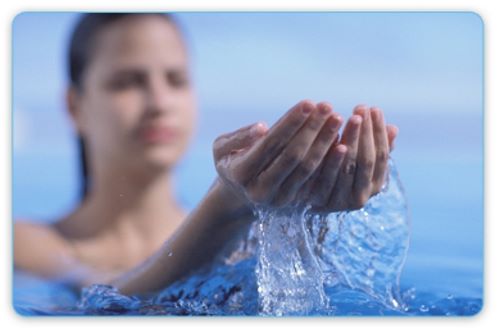 Session – preparation
It's worth to take a slippers and towel. Other necessary accessories you will find at the place (shampoo, shower gel, hair dryer). We recommend to come 15 minutes before session and find out more about the benefits from floating. Being here in the room with cabin take a shower and if you have small wounds lubricate them with provided Vaseline. Put in ear plugs which you will get from us before entering the cabin and lay down comfortably on the water. Everything depends only on you, you can relax either with "starry heaven" or in darkness, in silence or with music, in closed cabin or with open door. Bathroom, in which cabin is placed, is all for you and you are the only person in there through the whole session. It's not recommended to shave the day before because of high salinity of water. You shouldn't also drink energy drinks, including coffee, before session. We do not recommend using floating during menstruation. During session your phone should be switched off or muted without vibration.
Benefits coming out of floating
Deep relax
It's commonly known that relaxing dream is essential for our health and it's often the best way to get rid of stress. Our organism has unusual regeneration power, we just have to let ourselves to be relaxed so that power can work. Floating person reaches theta state quite fast, not falling asleep. By this we improve our creativity, peace of mind feeling, unity and harmony with earth. It's mysterious and hard to hold state but even after leaving cabin theta waves generation is still continuing through next weeks.
Decrease level of stress
Unfortunately nowadays stress is sometimes a dominating state. In our organism we have increased amount of cortisol and testosterone which we need for action but not in the long term in everyday life. Stress is all around us, excess of cortisol accumulates and we don't do nothing with it, our immune and digestive system capabilities are decreasing, we sleep bad hence we are susceptible to all sort of civilization diseases. We know how to help you that's why we decided to offer you a session in our floating cabin which will help you to restore your psychophysical balance.
Blissful state of mind
Thanks to session your brain becomes more creative and your awareness is growing. Following that the concentration is immediately increasing as well as memory and brightness of mind. In these conditions brain tends to balance and harmony of both hemispheres – we increase activity of right – emotional hemisphere and session allows us to fit to sleeping capabilities, imagination, visualization and problem solving with way that has not been available earlier. We learn more easier and we are free from negative beliefs and schematics. Fatigue is decreasing and symptoms of depression, neurosis and addiction are eliminated.
Something for our body
Elimination of external stimulus, that's what floating gives us. In cabin every physical experience is strengthened, we are able to relax and concentrate on almost every single body part. Moreover systematic sessions in our cabin soften and, with time, eliminate different kind of back and muscle pains, joints and tendons inflammations or even injuries and contusions. Significantly reduces symptoms of chronic pain, for example migraine. Speeds up rehabilitation and convalescence, reduces high blood pressure by slowing pulse. Improvement of sports results by increase of efficiency and physical fitness hence general increase of organism energy. Cleanse body from toxins, improves metabolism which highly helps in slimming process. Supports prevention and treatment of many diseases and positively affects hair and skin (for example acne and cellulite).
EPSOM salt means high capacity of sulfates and magnesium
Soothes tension and improves concentration • supports proper work of cardiovascular system • lowers risk of heart attack and cerebral strokes • improves oxygen use in cells • regulates operation of 300 enzymes, works diastolic and against inflammation for muscles rinsing out toxins from skin • simplifies cell's absorption of nutrients • stimulates digest functions of pancreas • helps with detoxication of organism • soothes headaches and migraines
Information for athletes
Insertion in physical relax state, which leads to improve efficiency and endurance, increase speed and coordination • reduction of overtraining effects and muscle tension • mitigation of post-traumatic pain • enhancement of organism ability to regeneration after injuries and intensive training • speeding up regaining top form and eliminating stress of defeat • improvement of athlete's mental condition by increasing self-confidence, concentration, inner peace and self-control by visualization
Recommendations
To achieve noticeable effect you have to take min. 3 session in short intervals, not longer than 7 days. Only one session for 60 min. after intensive training regenerates organism. Systematic: min. 3-4 session for 60 minutes in month for improvement of physical and mental condition, min. 2-3 sessions for 60 minutes in week for injuries treatment or to obtain faster effects
Steppingstone for overworked
Very important for properly functioning organism is to be able to, just for a while, fully rest and break away from everything what is around us, in a busy and nervous day. To obtain new ideas you need to have a space in which your mind chatter and opinions about who you are and what you do are rejected. Then you can contact with deeper part of you which show you unusual solutions. Floating cabin is helpful for everyone with active lifestyle. Reservoir allows to get relaxed in a few minutes and one session is comparable to 4 hour of sleep. Session in cabin after all day of work gives huge relief. Muscles tension related with relentless fight with gravity suddenly disappears and we realize that lot for tiredness accumulated during all day is caused by keeping body in vertical position. In neurophysiological point of view, of constant calculations necessity (of gravity direction, temperature changes etc.) huge masses of neurons are released. Not only that we rest but we also save lot of energy that we use in every second of our life. Sensory deprivation reservoir is especially beneficial for those who suffers chronic pains, illnesses or insomnia due their work and being overloaded by it.
For whom float session is?
for people:
overworked
busy
overstressed
suffering from neurosis and obsessions
struggling with backaches, migraine etc.
athletes
students
women in pregnant
convalescents and patients during rehabilitation
For everyone who wants new experience
Contraindications to use floating
first trimester of pregnancy
epilepsy
skin infections, irritations and damages
psychosis, mental diseases
menstruation
skin tumors
otitis
diagnosed claustrophobia
implanted pacemaker
diabetes
if we had depilation or other intensive cosmetic treatment 24 hours and less ago we can have irritations
alcohol or drugs consumption
Frequently asked questions
What should I take for float session?
Slipper and towel are enough. Swimsuit isn't required (unless you want to show off to you friends I make a selfie inside the cabin than go ahead) because room with cabin and bathroom is locked and it's only for you.
What about hygiene?
Everyone who wants to float can be sure that water inside the cabin is completely sterile and clean. High concentration of EPSOM salt and fourfold water filtering system by a high efficient pump gives us guarantee of hygiene at highest level.
How many people can enter cabin at once?
One person, you cannot float in pair or in group. Either in cabin and in bathroom can stay only one person, exception is floating child or disabled person, then also guardian can stay in bathroom.
Do I have to be afraid of claustrophobia?
Of course not. Interior of cabin with dimensions of 2,4 m long, 1,4 m width and 2,2 m height gives full comfort of roominess. Besides everything is under our control, we can open cabin door or control the light anytime.
What if I cannot swim?
Any swimming skill are unnecessary here. Water in cabin reaches just 25 cm deep and high concentration of EPSOM salt makes our body float on the surface and it doesn't touch the bottom.
What if I fall asleep in cabin?
No worries, it's completely safe. Floating is characterized by casing deep relax state while which we often falls asleep.
How long lasts the standard session?
60 minutes of floating in cabin. For every activities before and after session like shower, drying and dress up you have about 90 minutes. Additionally there is possibility to have longer session for experienced floaters.
What if I would want to try just once?
We assure you that it will be hard. If you find benefits coming out from floating then you will come back for sure. But of course you always have to familiarize with new situation thus probably after just one session you won't be able to feel all the benefits from this therapy, however every next session will let you scoop more of benefits from floating.
What is time limit of floating?
There is now time limit, you can float as often as you want. However we remind that effect from one session stays for few days so to satisfy needs it's enough to have one or two session in week.
Will my skin be wrinkled after session?
No, water in capsule contains high concentrated salt solution, thanks to which minerals are not washed out from our body. Used in solution EPSOM salt is natural pure mineral compound of magnesium sulfate which makes our skin soft and silky. Moreover solution is odorless and it's pH is neutral for skin.
What if I dye my hair in recent days?
We recommend a week break between treatment and session because color might fade and dye water in cabin. Before enter the cabin you have to wash off your makeup also.
Can I use floating during pregnancy?
Of course, unless your doctor would have some contraindications. By floating on the water you can also relieve your spine and ponds. However we don't recommend use floating in first trimester of pregnancy.
Can I be naked or do I have to wear swimsuit in cabin?
Naked bath is the most advantageous because our brain will not have to receive unnecessary stimulus from pressure of suit. Don't put swim cap as well because it will just disturb and additionally you will deprive you hair benefits from EPSOM salt.
Can I call staff when something disturb me during session?
Of course. There is a red button inside the cabin by which you can call the staff immediately.
Can kids do floating?
Yes, but only under adult person guard.
What if I have chronic skin disease?
If you don't have open wounds on your body and your actual skin condition is good than we welcome.
Why I have never heard of floating before?
Floating just reaches Poland but it develops fast thanks to its advantages, including relax and calm possibility as well as giving new exceptional experiences. There are over 700 floating resort in the world and this number still grows.
Prices
click to enlarge
Session

60 min

120 zł

Order!

518 198 018*

floatingcieszyn@gmail.com
Session

1 + 1

till 30.09.2020Two people float in the price

230 zł

Order!

518 198 018*

floatingcieszyn@gmail.com
Carnet

3 x 60 min

350 zł

Order!

518 198 018*

floatingcieszyn@gmail.com
260 zł
Order!
518 198 018*
floatingcieszyn@gmail.com
kliknij aby powiększyć
Session
60 min
120 zł
Massage
with nourishing butter
120 zł

Session

1+1*

Two people float in the price

230 zł
Carnet
3×60 min
350 zł
Session float+
massage
260 zł
nowoczesnespa.pl
*till 30.09.2020
Contact
Floating Cieszyn
Cieszyn, ul. Bielska 184
518 198 018*
floatingcieszyn@gmail.com
*Please book at least 1 day in advance
Open hours*
Mon – Sun: We are here for you
Possibility of booking at other times for individual clients.
*The opening hours are approximate. We adjust our working time individually for the convenience and comfort of our clients
Bank
wire transfer

FLOATING SZYMON BUJOK
ul. Bielska 184
43-400 Cieszyn

Account number:
83 1050 1096 1000 0091 1987 7836

Keep your relatives close
a unique gift

Take advantage of the unique offer and buy a voucher for treatments offered in our SPA! A moment of relaxation for your other half? Or maybe an anniversary gift idea? Our voucher will be perfect for everyone and for every occasion.

We invite you to read the current offer of vouchers on the floating.nowoczesnespa.com website. Our offer is available by clicking the button below: